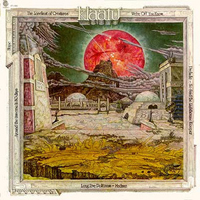 "Hope is like a lighthouse keeper's beam.
Hope - the master cobbler of our dreams.
For Hope believes in desert streams.
The mightiest of stars,
the microcosm in a jar -
vast or small they all revolve on Hope."

-- "Hope" - Klaatu

Years ago in college, I bought an album (yes, vinyl) from a band I had never heard about but had this wonderful album cover,
Klaatu
. The band had a sound that was similar to
The Beatles
but the lyrics were "Sci-fi rock".
I think often about the word
"hope"
as I go through my day and the quote above has stuck with me for many years as somewhat profound. I have many hopes and dreams. Where does that fit into my life?
I Cor 13:13
says:
But for right now, until that completeness, we have three things to do to lead us toward that consummation: Trust steadily in God,

hope unswervingly

, love extravagantly. And the best of the three is love.